Killa Kellz plead guilty to trafficking methamphetamine while having a run-in with the law in 2017.
Killa Kellz – Chicago Drill Rapper
The talented rapper has now been released on bond, and hoping to beat his charge that is considered a Class X felony of "Armed Habitual Criminal."
This charge could may bring a sentence of up to 6-30 years in prison.
Kellz is a member of Bricksquad 069, and teamed up with Smylez in 2016, for a 14-track mixtape titled "Jojo's Revenge."
Why did Killa Kellz switched from BD to Insane GD?
There are pictures of Kellz when we was friends with Lil Reese, and they even exchanged heated Tweets on the matter.
Allegedly, members of the Black Disciples killed a family member of Kellz, and this act of disloyalty made him switch to an Insane Gangster Disciple.
Kellz stated in a recent interview with VladTV, that he started the term "300."
KILLA KELLZ DEDICATES NEW SONG TO SMYLEZ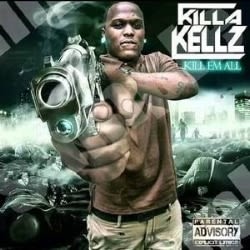 Interview with Zacktv1
Additionally, Killa interviews with Chicago's street reporter ZackTv1, and talks about ending the war between the GD's and BD's.
So many lives have been lost from gang-related shootings in Chicago, but one of the most unexpected tragedies was the death of Chicago rapper and producer, Smylez.
Furthermore, Killa Kellz was just released on bond this October, and is still grieving upon learning the premature death Smylez, one of Kellz' closest friends.
New track "If I Die Young"
The track was also produced by Smylez, as Kellz pays tribute to his fallen friend.
Popular Killa Kellz Music Videos
"300K"
"Smoke"