Chiraq Slang – a guide to Chicago Street Gangs and nicknames of neighborhoods.
Chiraq Slang – Chicago Street Gangs
Chiraq Slang – Here's a gigantic list of names that certain blocks are referred to in South Side, Chicago, IL. In the list below, you'll discover that many of these territories or sets are affiliated with Chicago street gangs.
In Chicago gang culture, it's a common practice to honor highly respected members (usually deceased), by adopting a set or block after their name.
Chiraq Slang Terms
'Drill' – Most commonly referred to as killing another gang member, taken from former Chicago gangster Al Capone's vocabulary.
'Stain' – Refers to a victim that may be an easy target for a robbery.
'Shorty' – A younger gang member, usually under the age of 18. "Shorties" are usually used to commit crimes, and do dirty work. Younger gang members are able to avoid adult sentencing, and usually brought to Juvenile court.
'Shooter' – Usually a young gang member, shooters are the enforcers within a gang.
---
Most Common Slang In Chicago Drill Music – Chiraq Slang
Lamron
Lamron, (Normal spelled backwards), is a block in Englewood, with the street address of S Normal Ave, Chicago, IL.
This area is controlled by the Black Disciples street gang, and can be heard in many songs by popular rappers like Chief Keef, Lil Durk, and Lil Reese.
Fazoland
Known as Fazoland, also referred to as Roc Block and Pistol Gang, was made famous by popular drill artists G Herbo and Lil Bibby.
G Herbo (formerly Lil Herb), titled his breakout mixtape 'Welcome To Fazoland,' to honor where he used to reside on S King Drive.
The name STL/EBT is a name for St. Lawrence Ave, where rappers Lil Jay, FBG Duck, FBG Cashout, Wooski, and the rest of the notorious Fly Boy Gang rap group is from.
Jaro City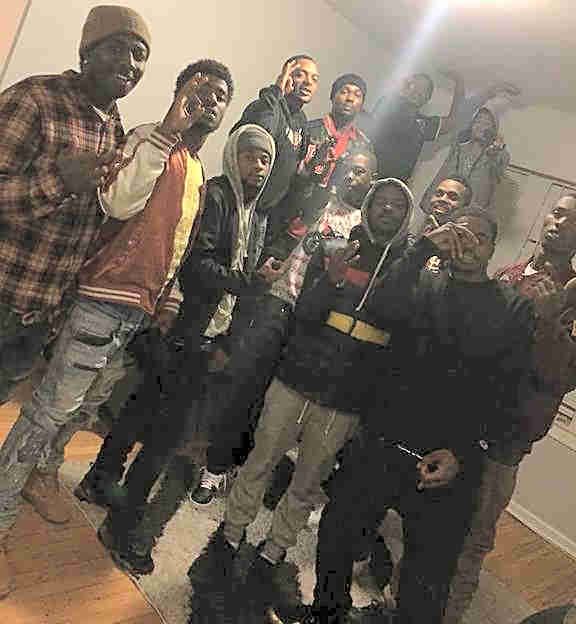 Furthermore, Jaro City is also known as Tyquan World, consists of members of the Darkside Black Disciples and the Outlaw Gangster Disciples.
---
Chicago Street Gangs – Welcome to Chiraq
View Chicago's street gangs map
Black gate city 054 (Tizzle Stain gang)
Wudae world 059
600/Brick city (Steve Drive, D- block, Baldy World, SHAQ CITY, LA gang, lil boo gang, Stelloland)
Front$treet 061 – (Mike world, Blood money gang, Capo town)
Lamron (Lilmoeland, Dart gang, Taytown, Beto gang)
Wic city 064 (Keta world, O-block, Reezyville, Toontown, Sheroid Squad, Whitey gang, Munna gang)
Lowe (Etho world, MMG)
Doggpound 072 (Johnny squad, Weebo city, Polo world)
MTV 079 (B-block, Harolds Gang)
Foxxville
Drama world
Ada park
Whiz city BD 082 (Rico gang, TJ grove,Tysean world )
TYMB065 (Obama world, Kecey gang, Little town)
Chris World 066
1017 Faceworld (Marty world)
WWDC (Rell gang)
OBN 039 (Booda squad, Scoota gang)
44 THF 46 (Karl town, Black world, Gudda gang, Quint city, Faheem block, Raheemland)
NLMB 150 (Fazoland, Vito city, Pistol Gang, Roc Block, C-moeville, Kobe squad)
ABK (Fame world)
Black Mobb (Scoob World, T-bone city)
No Limit No essex 083 (Tony world, Sosa block)
GME (Roe block, Scotty gang)
Folly boyz (Molly world, Scrapp gang)
Cblock (JustoWorld)
TTD 075 (Guwop Gang)
BBG
Hoola gang (Hi city Dirt gang, Splash world)
MixxMobb (Mexico city, D-town)
Jigdogs 043
TouchMoñey 045
SuWuTTB 039 (STUNNA gang, Jamonieworld, Meroland, Gooncity, Dejuan town)
Young Money 051(Zeko world, Los City, Lance Land, Streetzville, Fatzgang, Marcblock, Big A squad, Polo gang, Frump street, Wank town)
800DMG 061(Diddy grove)
ABM/Jaro city 062 (Hottie World, Dalvin squad, Crack block, OJ world, Archie gang, Boobie town)
Geo Drive 053
757 (Sonnoside, Snoop gang, Jamar world, Cess block, Neef city, Boonie byrd gang)
50 STRONG (Dell world, Dougo gang)
MOB 059 (Junebug gang, Scrapp town, Baybay world)
TW 061
STL/EBT 063 (Tookaville, Tutu gang, Ja ja gang, Boss City, Dalemob, Doc bloc, Modell world, Lil B land, K.I. World)
Josh block 068
Bricksquad 069 (Aikiville, Jo Jo world)
CVG 069 (Jayloud city)
CMB 070 (Joc block)
Wuga world 075
8treyMOB (Cliff gang, Manny World, Don D world)
Low End
Pax town (Yatta world)
No Luv City
Mac creek 062 (Vic world)
CTG 079 (Dello world, G-ville, Bari block)
MTG 079
K-ward 078 (Freako world, LY city, BK gang))
Lakeside (LoLo world, Budland, Posto gang)
KTS (Moe block, Von world)
Pockettown (Corey town)
LPC 071 (Moose block, Ghetto world)
Sirconn City 1400 E (Johno world, Fearro gang, RA block)
Insane Cutthroat Gangstas (PBG, 2cupz gang, Heno gang, Keyo world, Freakyville, Pepland, Pappy town, Mosey squad)
LOC city (Blake block, Rockett town, Keno world, Munchie gang)
Guttaville GVG (Day day world, lil 4mobb, EJ gang)
Deathrow 085
4CH's (The Four Corner Hustlers)