Chicago Drill Rap Music
Chiraq Drill Music is A Platform for Talented Chicago Rap Artists to be Discovered. We aim to end violence by promoting music.
Listen to the Latest Music
Listen to your favorite drill rap songs and news articles.
Purchase official OTF by Lil Durk, Famous Dex apparel, and Chance 3 hats.
Get the latest apparel worn by your favorite Chicago Artists.
---
Watch Videos
Watch music videos and interviews from Chicago artists.
---
Artist Bio's
Discover more info on up-and-coming Chicago rappers
Chiraq Drill Music
Chicago drill music was at the height of its popularity when Chicago rapper Chief Keef released the music video 'I Don't Like', featuring fellow artist Lil Reese, on March 11, 2012. At the time, Keef was on house arrest, performing the video directed by DGainz – in his grandmothers house.
On September 4, 2012, Lil Jojo posted a video on YouTube confronting Lil Reese saying "Imma Kill you." Later that evening, an unidentified shooter fired bullets that struck Lil Jojo, while he was riding on the back pegs of a friends bicycle. This tragedy brought national attention to Chicago regarding gang-related violence, and was reported by news outlets around the United States.
The Best Chicago Drill Rappers
Lil Durk
Lil Jojo
Chief Keef
Lil Reese
King Louie
Edai
Fredo Santana
FBG Duck
Rico Recklezz
G Herbo (Lil Herb)
Lil Bibby
Billionaire Black
Prince Dre
Killa Kellz
King Samson
Chicago Drill Rap Groups
Savage Squad Records
About Savage Squad Records
Savage Squad Records was founded by Fredo Santana, who also happens to be Chief Keef's older cousin. Artist's signed to Savage Squad Records are also members of the Black Disciples street gang – rivals of the Gangster Disciples.
CEO, Fredo Santana, has left the streets of Chicago, while continuing to branch out into various business ventures. Cdai, whose real name is Courtney Ealy, is the younger brother of drill artist & 600 member Edai.
Cdai was an up-and-coming artist also signed to Savage Squad, but was charged with the murder of Javon Boyd, a taxi cab driver while waiting to pick up another client. 17-year-old friend and OTF artist RondoNumbaNine (Clint Massey), who was also affliaited with 600, was also charged with the homicide.
Savage Squad Records Members
Fredo Santana
Gino Marley
SD
Cdai
JuiceDaSavage
Baby CEO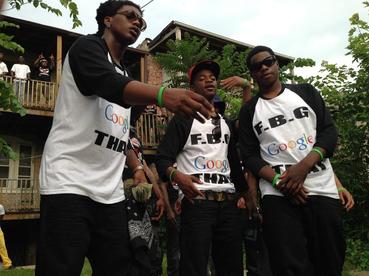 Fly Boy Gang (FBG)
About Fly Boy Gang
Fly Boy Gang, also known as Clout Boyz, is a rap group from South Side, Chicago. Artist's in FBG are also members of the Gangster Disciples street gang.
Members Lil Jay and FBG Duck aired on the popular reality television series Drugs, Inc. The name "Tooka", is praised in songs by many members of FBG. Tooka was a Gangster Disciples member in the "St. Lawrence Boyz" set. He was shot and killed on January 12, 2011 while waiting for a metro bus – he was only 15 years old at the time.
National media attention also covered the death of FBG associate Gakirah Barnes, known as "K.I.", who was a 17-year-old girl who may have been responsible for up to 20 gang-related murders before her own death. "Tooka" and "K.I." were only young teenagers at the time of their deaths.
Fly Boy Gang Members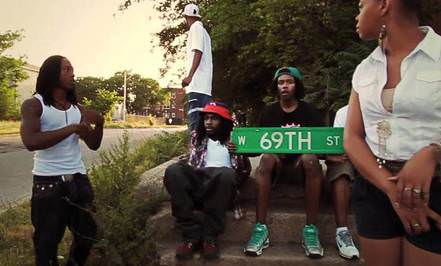 Bricksquad
About Bricksquad 069
Bricksquad 069 is a rap group, and a faction of Gangster Disciples street gang. Bricksquad claims the area block of South Eggleston Ave, on 69th Street in Chicago, IL. Lil Jojo, who was murdered in 2012, was the founding member of Bricksquad. Lil Jojo released the diss track "BDK (3Hunna K)," which stands for "Black Disciples Killer."
Bricksquad 069 Members
Lil Jojo (Deceased)
Smylez (Deceased)
Swagg Dinero
Lil Mister
P.Rico
OTF Entertainment
About OTF Members
OTF, which stands for "Only The Family", was founded Lil Durk. As the founding member, Durk is also signed to the hit rapper French Montana's imprint and collective, Coke Boys Records. Lil Durk is also signed to Def Jam Records. OTF Nunu, also known as "Nuski," was murdered during a drive-by shooting May 31st, 2016.
Another member, OTF Nunu, was an aspiring rapper; and also the blood cousin of Lil Durk. On March 29, 2016, female artist, Ann Marie, announced on her personal Twitter page – "Official FIRST LADY OF OTF So Much In Store For My Supporters Thanks For Rocking With Me."
OTF Artists
Lil Durk
Hypno Carlito
Anne Marie
OTF Nunu (Deceased)
Team 600 Artists
About 600 Members
The number "600" is a faction of the Black Disciples street gang. Members of 600 are from South side Chicago, IL. The former 600 member Leonard Anderson, was a larger than life figure. Leonard Anderson, known as L'A Capone, was shot to death in 2013. L'A Capone was only 17 years old at the time of his murder. L'A Capone earned national recognition for his tracks "Play For Keeps," "The Gat," and "600 Barz."
Team 600 Members
Edai
600 Breezy
Jusblow
Young Famous
L.A. Capone (Deceased)
RondoNumbaNine (Currently charged with 1st Degree Murder)