Kim Kardashian-West Robbed At Gunpoint in Paris Hotel
Chicago's Kanye West left his show at the Meadows Festival in New York City citing a "family emergency," as he heard the news that Kim had been held at gunpoint by masked men that were allegedly disguised as policeman.
Kanye's "Heartless" Song Interrupted
Kim is in France for Paris Fashion Week, as Kanye was in New York City, performing at the Meadows Festival. During the Chicago rap icon's performance of "Heartless," Kanye was briefed about the emergency situation and left mid-concert.
Festival organizers, Founders Entertainment LLC, released the statement:  "The great show he put on for fans to close out the inaugural Meadows Festival." "Our thoughts are with West and his family," they said.
"The great show he put on for fans to close out the inaugural Meadows Festival." "Our thoughts are with West and his family."
Kim Kardashian Tweets
Paris Fashion Week
Kim in Paris For Fashion Week 2016
Meadows Festival Headliners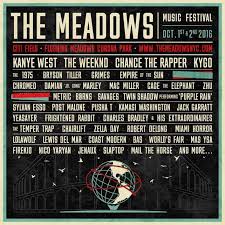 Kanye West Performs at Meadows Festival